Governments and businesses must start implementing this decade's deal to halt the destruction of Earth's ecosystems as soon as possible, the acting UN biodiversity chief has said, urging rich nations to tackle overconsumption of the planet's resources.
David Cooper, the new acting executive secretary for the UN convention on biological diversity (CBD), said countries and corporations must immediately act on December's historic agreement in Montreal, which includes targets to protect 30% of Earth, reform $500bn (£410bn) of environmentally damaging subsidies, and address and disclose the impact businesses have on biodiversity.
Some scientists believe humans are causing Earth's sixth mass extinction event due to overconsumption and pollution, driving the largest loss of life since the time of the dinosaurs. Despite the scientific warnings, governments have never met a UN biodiversity target they have set for themselves and there is a major effort to make sure this decade is different.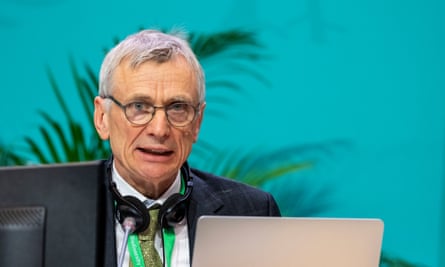 "The results have to be achieved by 2030, meaning that action has to be taken now. That means we need money and plans from governments now," said Cooper.
"Countries should be working on national targets and agree a government-wide plan. The key thing at this stage is to ask what the agreement means for the agricultural sector, infrastructure, health, urban development and economic development.
"There are various ways that countries can proceed. They could have outcome-oriented aims [that make an overall target the law], a bit like the UK has on the climate. When we look at successes in the past, like the previous Lula administration [in Brazil], which achieved an 80% drop in deforestation in the Amazon, that was achieved through a whole-of-government approach. It was a mixture of laws, incentives, investment in agricultural research and improving data," he said.
Cooper has taken over from Elizabeth Mrema, who has recently become deputy UN environment chief, while a successor is appointed. Cooper, who is British, had been deputy UN biodiversity chief since 2015 and played a key role in Cop15 negotiations in Montreal.
After the agreement in Canada, the main UN fund for biodiversity – the Global Environment Facility (GEF) – has started the process of creating a new arm to channel money for conservation efforts around the world. China, Indonesia, Mexico, India and Brazil are now the top recipients of funding from the GEF. Smaller biodiverse countries, especially those from Africa, wanted a new fund to pay for targets on protecting and restoring nature. The design and aim of the new fund will be agreed later this year.
Cooper said it was important that donor countries made good on their financial commitments agreed at Cop15 and said businesses should also begin adapting their practices. The final agreement signed in Montreal included a target for businesses to assess and disclose their impacts on nature.
"Businesses, particularly large and transnational businesses, need to properly account for their impacts on biodiversity, as well as their dependency on it. Having to disclose those impacts obviously puts pressure internally and externally on them. It's potentially really important," said Cooper, who added that rich countries and wealthy people had a special responsibility to make the deal a success.
"Those of us in richer countries, especially richer people in rich countries, need to be looking at their own footprint. On a planet with limited resources, excess overconsumption by the rich in particular has to be limited, otherwise it just doesn't add up," he said.
Find more age of extinction coverage here, and follow biodiversity reporters Phoebe Weston and Patrick Greenfield on Twitter for all the latest news and features