Marcus Rashford has been in such scorching form this season that it felt inevitable that he would find the back of the net in the League Cup final against Newcastle at Wembley.
It was ironic, therefore, that he had to wait to be credited with the goal — his shot, deflected in by defender Sven Botman, was originally given as an own goal before the organisers announced that it would officially be chalked down to the Manchester United hitman.
Not only did the goal help end the Red Devils' six-year wait for silverware — even if the League Cup isn't regarded as a 'major' trophy — it also meant that Rashford had scored in every round of the tournament to finish as its leading scorer with six strikes. The goal took the 25-year-old's season tally to 25 goals, of which two-thirds have come after the World Cup break.
Rashford has epitomised United's resurgence, his scintillating performances helping the side ride the crest of a wave. He has been immense in the big games against the big teams. He has scored in wins over Arsenal, Manchester City and Liverpool this season, on occasion making something out of nothing, thanks to this athleticism, skill and ball-striking.
Shaking Camp Nou
Rashford recently carried his carve-up of Premier League defences onto the European stage in an enthralling first leg at Camp Nou. He turned a 1-0 deficit against Barcelona into a 2-1 lead for United in a seven-minute spell in Catalonia as he smashed home at Marc-Andre ter Stegen's near post and then drilled in a cross that forced Jules Kounde to turn into his own net.
Rashford was a formidable threat in the second leg at Old Trafford as well, helping United notch up its biggest European scalp since 2019 when his penalty had dumped Paris Saint-Germain out of the Champions League.
The Europa League win over Barcelona felt like United's defining moment in its season of renaissance under Erik ten Hag; it was also confirmation of Rashford's freshly minted status as a truly elite striker capable of deciding marquee games from any position on the frontline.
Having been booed by his own supporters last season, Rashford's turnaround has been staggering. No player in Europe's top five leagues comes close to his 21 goal involvements, with 17 goals and four assists since returning from Qatar. Not bad for a forward who was so woefully out of form last season that he scored only five times in all competitions!
So, what has caused this transformation after a frustrating period when it seemed like his vast potential might be squandered? There appear to be three contributing factors: the departure of hero-turned-villain Cristiano Ronaldo, the arrival of ten Hag and the player's commitment to a career reset.
The Ronaldo situation
Ronaldo's transfer in 2021 was seen as a vanity signing as United was not struggling to score; Rashford, himself, was on the rise, having completed a second straight season with 20-plus goals in all competitions. But even as Ronaldo added to his burgeoning goals tally, the rest of the team suffered. There were also reports of a toxic atmosphere at Old Trafford, with some players allegedly unhappy at having to service the ambitions of United's megastar.
The entry of ten Hag, who laid down the law very early on, benched the ageing Ronaldo and changed the style of play to get the best out of all players on the pitch, was a significant moment. Ronaldo was left seething but United slowly began winning games again.
The Portugal forward's acrimonious exit lifted a pall that had hung over the club. It also allowed Rashford to step out of the shadow of the five-time Ballon d'Or winner and become the player United fans envisaged when he burst onto the scene as a fresh-faced teenager in 2016.
Disciplinary issues marked the end for Ronaldo, who left games early, upset at being benched, but Rashford has graciously accepted punishment and come out the better for it. The England forward was left out of the starting lineup against Wolverhampton Wanderers on New Year's Eve after missing a team meeting because he had overslept. Instead of sulking, he came off the bench, scored the winner and accepted the blame for his "mistake".
Ten Hag's firm but fair approach appears to be exactly what Rashford needs. It's no surprise that the striker had described his manager as a "joy to work with" even before the spectacular run of form began.
"As coaches, we have to push them but finally it comes from the player," ten Hag said. "When Rashy loses focus then the scoring will stop. [That's] clear. When he works well, he will even score more goals because he can score with his left, right and his head."
Ten Hag's system of playing brings the best out of Rashford because it creates an environment for him to thrive in. "It is more about bringing him in the right position and that as a team we create the right spaces for him, so that he can bring his strengths," ten Hag said. "Then he is unstoppable with his speed, his dribbles, his directness."
Change in mentality
Rashford's change in mentality has played a big part in his revival. Resolving to get back on track, he flew last year to the United States to work on his sprinting style and peripheral vision to improve his link-up play, ahead of ten Hag's first pre-season as United manager.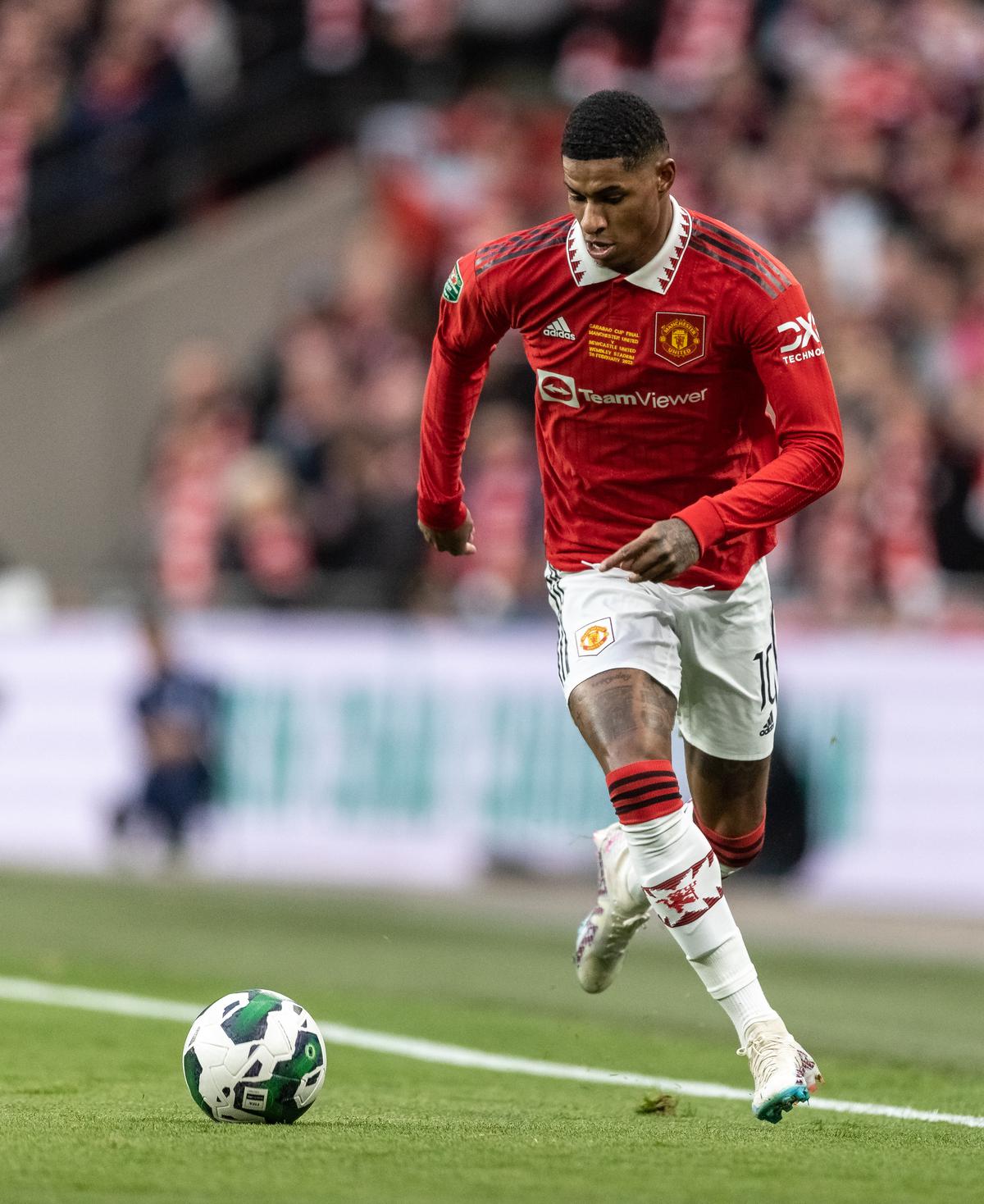 "Football is probably 95% your mentality," Rashford told British media. "That gives you the baseline to perform. There are a lot of players that have the ability — that's why they play at the top level. But what sets them apart is the mentality. I've been on both sides of it."
The issue for United is what happens should Rashford fail to maintain his scoring streak. He has been ever-present in United's brutal schedule after the World Cup, serving as the team's primary source of goals. But he appeared to injure himself in the second leg against Barcelona and was a doubtful starter in the League Cup final.
Rashford willed himself through the pain barrier, however, as he often has this season. It's something United will hope he can continue to do.
"He learned already, he knows that in top football you have to suffer, you have to sacrifice, you have your painful moments," ten Hag said. "Opponents will be tough to stop him, but he is capable of dealing with it. A player like Marcus, when they stay in the game, with 100 percent concentration, they have the skills and only need one moment to change the result."
Source link