Kochi: Attempts to douse the fire at the waste treatment plant at Brahmapuram here are on even after five days since the outbreak. The fire has been brought under control and efforts are on to contain the smoke emanating from the burning plastic garbage, the district administration informed on Monday.
Firefighters are trying to douse the smoke billowing from beneath the heaps of the garbage that caught fire. Water is pumped into the garbage after shoving them using heavy machinery. Six Hitachi machines are used for the purpose.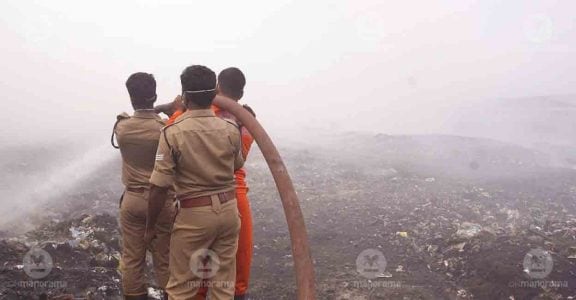 The firefighters have adopted the flooding strategy in which the entire area under fire is inundated. Water is taken from the nearby Kadmabrayar water body for this. Two floating JCBs are used for this.
As many as 30 firefighting units have been deployed on the ground. One unit uses 40,000 litres of water to douse the flames. There are 120 Fire and Rescue Services personnel working in the plant. They are joined by the employees of the Kochi Corporation also. The plant is managed by the Corporation.
Two helicopters of the Navy are used for pouring water from above. Firefighting equipment have been brought to Brahmpauram from the Cochin International Airport at Nedumbassery also. Two heavy de-watering pumps brought from Alappuzha and other small pumps are also used.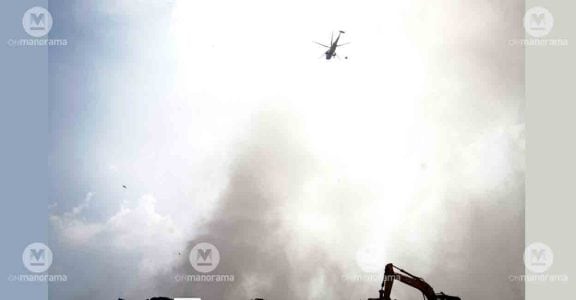 Rights panel steps in 
The States Human Rights Commission (SHRC) has sought a report from the authorities on the steps taken to contain the smoke menace caused by the massive fire at Brahmapuram waste treatment plant.
SHRC chairman Justice Antony Dominic has issued a notice to the state chief secretary, Ernakulam district collector, environmental engineer of the Pollution Control Board, and Kochi Corporation secretary. The officials have been given two weeks to respond, the SHRC said in a statement. 
The SHRC intervened in the matter following reports of the toxic smoke from the waste treatment plant posing serious health risks to many people. The rights authority has a registered a case suo motu based on media reports.
Source link