Four climate activists who blockaded a street in London in a campaign to press the government to insulate homes have been found guilty of public nuisance.
A jury at Inner London crown court found the protesters, who are members of Insulate Britain, guilty on Monday after a four-day trial.
The four were part of a blockade on 25 October 2021 at Bishopsgate in the City of London as part of a series of actions to put pressure on the government to insulate homes to cut carbon emissions.
Matthew Tulley, 44, Ben Taylor, 38, George Burrow, 68, and Anthony Hill, 72, all denied causing a public nuisance but were found guilty by the jury.
Their convictions come after two members of Insulate Britain were jailed on Friday for contempt of court for breaching the judge's ruling not to mention climate change to the jury.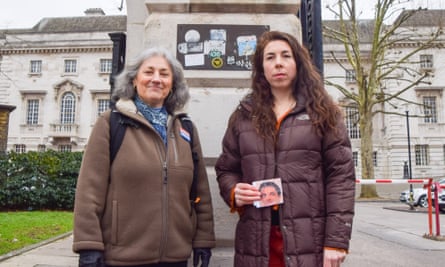 Dorset councillor Giovanna Lewis, 65, and horticultural worker Amy Pritchard, 37, were both jailed for seven weeks by Judge Silas Reid after they ignored his ruling not to mention climate change or fuel poverty or other motivations for their actions.
Last month another Insulate Britain protester, David Nixon, was given an eight-week prison sentence for defying the judge's orders.
Lewis told the court at her contempt hearing: "I continue to be astonished that in a British court of law a judge can or would want to ban or criminalise the mention of the words 'fuel poverty' or 'climate crisis'.
"There are thousands of deaths every year in the UK from fuel poverty, and thousands of deaths around the world due to climate change. There is no choice but to give voice to truth and to not be silenced.
"I always believed that courts and judges would encourage this truth. I now see how naive I have been."
Pritchard said: "History shows that the law is not always in line with justice. I cannot and will not follow your rulings."
But Reid told the two women they had each breached his rulings in their closing addresses to the jury. He said: "It is hard to think of a more calculated and deliberate contempt."
"You have each been given the opportunity to apologise. Neither of you took that opportunity," he said. "My ruling was made because there was no relevance to the matters that the jury needed to decide. The public have rights as well as protesters. You each had disdain for the judicial process."
Reid on Monday adjourned sentencing for Tulley, Taylor, Burrow and Hill until 31 March.
Source link